1933 Austin 7 PD Two Seater Tourer
Reg no: ALB327
Chassis no: 174505 (Manufactured March or April 1933)
Car no: B7 8010
Engine no: M192441
Body no: PD 557
Reg Date: May - June 1933 (V5 says 31 Dec 1933, but this is an artificial date as the exact date of registration in 1933 is not known)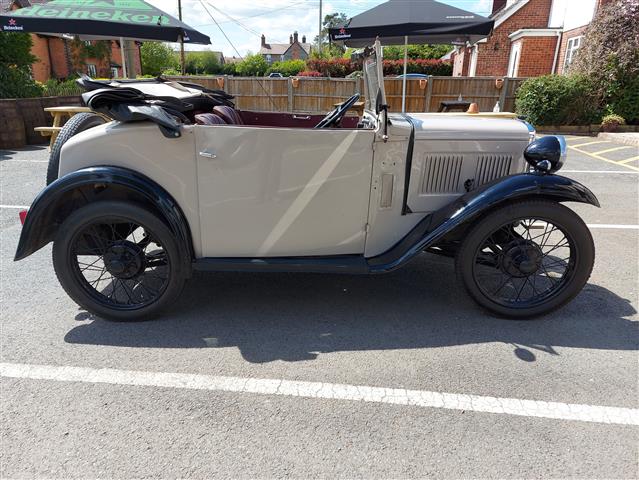 Peter Britton who sold the car to me, tells me this about it.
It's far from concours but runs well (and stops!). The interior and headlamps are not original, but it does have the original number, which is transferable and therefore valuable. Not that anyone would dream of such sacrilege of course!
First I must stress that the car is quite tatty compared with JS 4835 (my(Roly) previous green APD) when looked at close to.
I've had to do quite a lot of work on it including replacing most of the braking system, rebuilt rear axle, rewire etc. I haven't touched the engine or gearbox though, which seem to work well.
I bought the car from a dealer (Nigel Snow) who had bought it from the widow of the former owner, a retired garage owner from Devon called John Friend. He had got the car back on the road (I hesitate to say restored it!) in the 1970's and recovered the original registration number. Despite being recovered, the number is still transferable, - presumably the rules were different back then. There is some history of John Friend's ownership, such as MoTs and letters from DVLC, but nothing before then.
The car has a rather old (1970s?) hood made of leathercloth type material and sidescreens. The wiper motor is electric rather than the original suction type.
I don't know what overhauls were carried out. The previous owner did his own work and wrote nothing down. The outside of the engine looks quite tatty, but I noticed when I took the sump off that the big end bolts look brand new, so some work must have been done internally.
When I rewired the car I added flashing indicators (for safety reasons). The ignition warning light was broken when I bought the car and rather than buying a new one I decided to be clever and make a triple warning lights cluster for ignition, indicators and main beam which fits in the same place and uses LEDs. That was not entirely successful as the ignition warning light flashes rapidly on and off even when the dynamo is charging. It would be easy to refit a conventional filament bulb light though. I also fitted some relays to avoid overloading the original ignition/light switch.